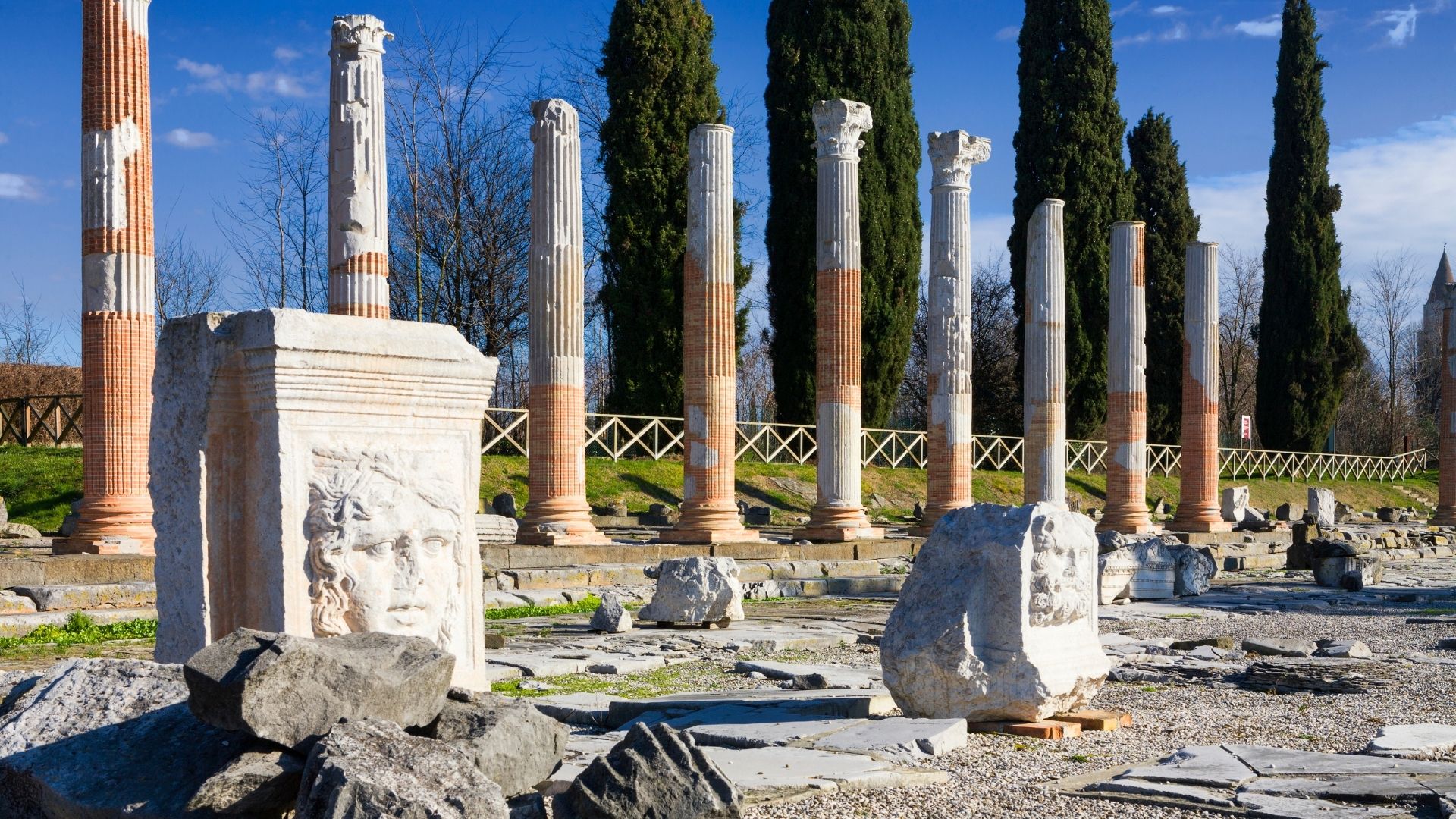 Located 50 km from Trieste, Aquileia was included in the UNESCO World Heritage List in 1998 thanks to its archaeological heritage, which is one of the best preserved testimonies of ancient Roman grandeur.
Walking along the streets of this city will be like taking a journey through time. In fact, Aquileia was founded in 181 BC. by the will of the Roman Senate as a military base to encourage expansion towards the eastern Alps.
The history of the city continued for many centuries until Aquileia became in the fourth century, a period of greatest splendor of the city, a military, commercial, religious center and one of the main towns of the Roman Empire.
The testimonies of this splendor are today the major attraction of Aquileia. In fact, here you can visit: the Domus of Tito Macro, the archaeological museum, the Basilica of Santa Maria Assunta, the Paleochristian museum, the Roman Forum and much more.
Also famous and unmissable are the mosaics present in the Patriarchal Basilica representing religious figures.
A visit to this town is a must for history, mosaic art and culture lovers but also for those who are simply curious to discover a new interesting city.
Depending on the level of interest or the degree of detail, it will be possible to opt for more or less technical visits of different lengths.
Thanks to a comfortable cycle path from Aquileia you can reach Grado by bike. The route lasts about three hours and initially crosses the ancient part of the city of Aquileia and then continues on the bridge across the lagoon that allows you to enjoy a beautiful view of the sea and the island of Barbana, until reaching the historic center of Grado.
Aquileia is therefore the ideal destination both for enthusiasts who wish to spend the whole day discovering its beauties, and for a short half-day excursion.
Do you want to plan your next trip to Trieste?
Click here to request us a customized quote without obligation!
Previous article:
POSTOJNA CAVES
Next article:
CIVIDALE DEL FRIULI