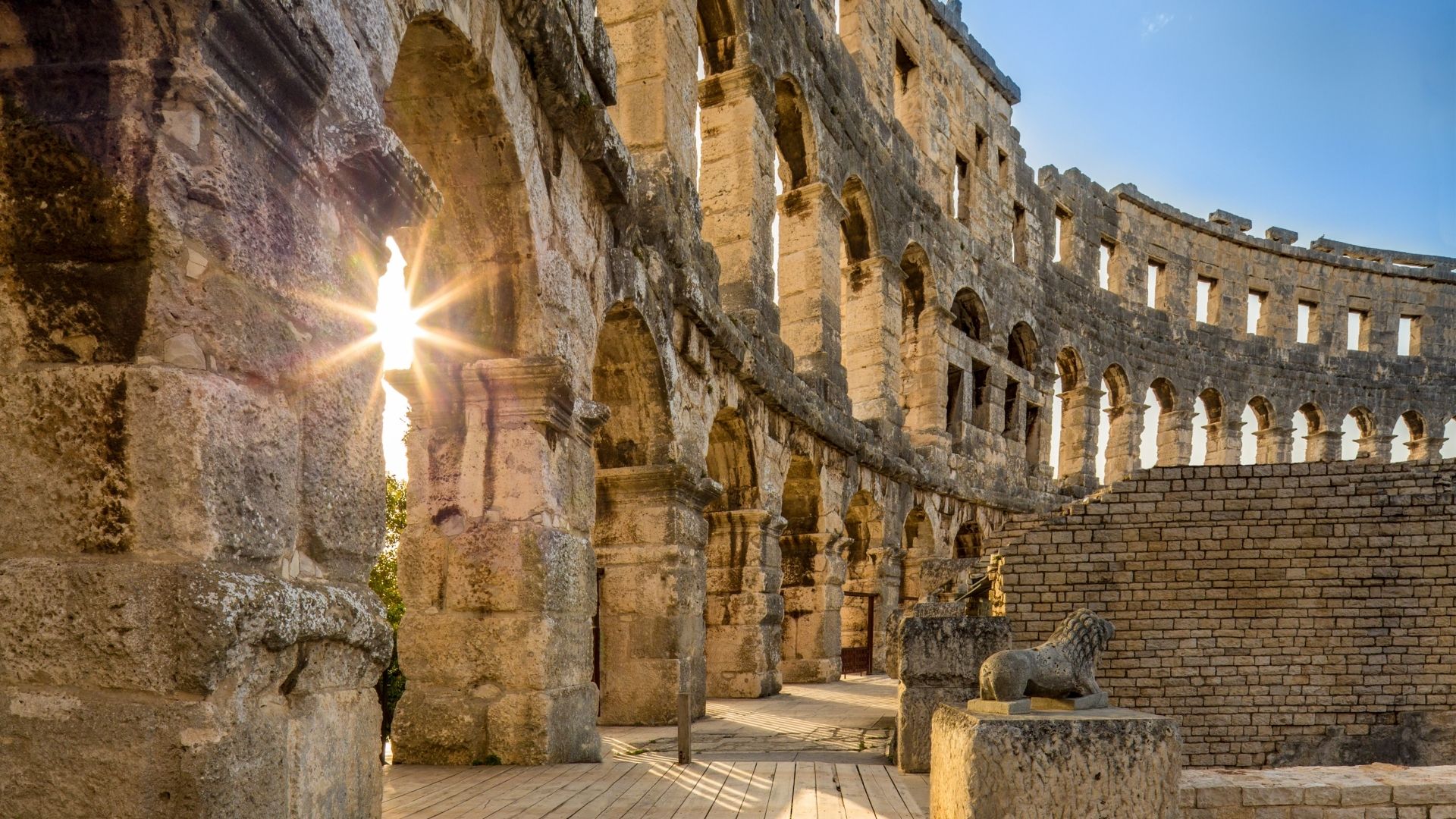 In just an hour and 30 minutes from Trieste you can reach the magnificent Pula.
According to an ancient legend, it was founded three thousand years ago but its charm still persists and there are many elements that make Pula an unmissable place: the very pleasant climate, the crystal clear sea, the variety of beaches and the rich historical and cultural heritage.
This city, located in the south of Istria, is perfect for spending a day full of culture and entertainment.
Pula is famous for its ancient Roman ruins and above all the amphitheater, which is one of the main attractions of the city. Located a few steps from the sea, this suggestive Arena always amazes and is the ideal location to take beautiful photographs. If in Roman times the amphitheater was used for the very famous gladiator fights, today it is home to events, especially in the summer, such as the Pola Film Festival. On this occasion the Arena is transformed into a wonderful outdoor cinema with the sound of the sea in the background.
The amphitheater is not the only Roman ruin present in Pula; in fact there are also the walls that delimited the old city and the Temple of Augustus, once located in the Foro. For fans, the other archaeological finds that have taken place over the years can be admired at the Istrian Archaeological Museum.
If after a morning of visits and museums you want to relax, you can stroll through the city center, taste local products at the market or go to the aquarium, the most visited in Croatia, located in a very particular location: inside the old Austro-Hungarian fortress Fort Verudela where military tradition meets the inhabitants of the Adriatic Sea.
Finally, how not to mention the wonderful sea of Croatia. In Pula there are various types of beaches: rocky, pebble, sand and gravel. Here you can do many activities for lovers of water sports and marine life: snorkeling, canoeing, kayaking, surfing and windsurfing, but also fishing or simply sunbathing on a mattress floating on the crystal clear sea.
All these elements make Pula an unmissable place if you are in Trieste!
Do you want to plan your next trip to Trieste?
Click here to request us a customized quote without obligation!
Previous article:
FUSINE LAKES AND MONTE LUSSARI